Webbased Interviewing
Flexible and efficient management of web interviews and forms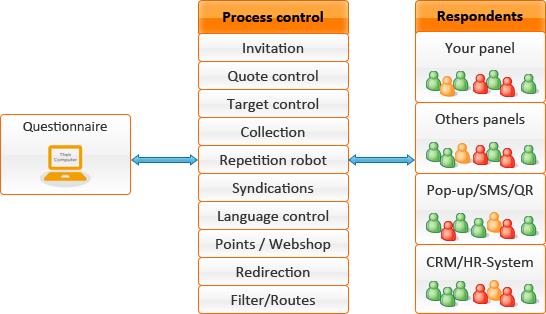 Online interviews and filling in web forms is extremely easy and flexible with Catglobe – and you will never meet any limitations!

With Catglobe, every possible question functions and display options are available. You decide precisely how your questionnaire should be displayed, how many questions to show in one screen and whether you want to play audio or display video and pictures.

You have your own layout editor and can thus define exactly how your questionnaire should look. You can also include questions in other applications, on websites or in blogs. Likewise, you can use your project to monitor user behavior and dialogue on the Internet.

Invitations to a questionnaire can be emitted in several ways, typically via email or SMS. You will have access to templates for various types of invitations so you don't need to create these manually from time to time.

Invitations can also be send via a pop-up on a website or distributed in hall tests, in relation to a task in your call center, and many other ways. This means that you are able to combine all your feedback processes.

Using Catglobe, you will never have a problem with displaying a languages, character sets or reading direction – Catglobe does it all and handles millions of invitations and web responses simultaneously.