Questionnaire
User Friendly System
Finally it's here. Catglobe offers a user friendly questionnaire editor, which contains both simple and advanced solutions.
Catglobe guides you through four simple steps to create a successful survey:
Edit questionnaire
Target Group
E-mail Template
Invite Respondents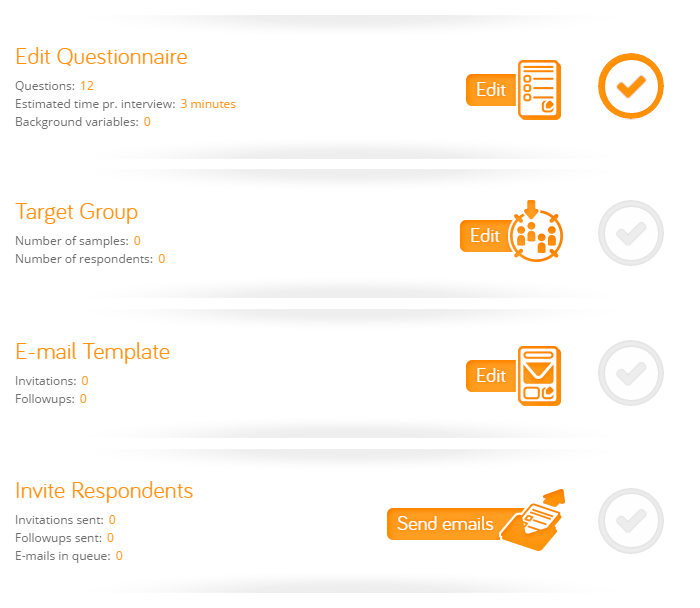 Features and Benefits
Full Control
You will not experience any
technical limitations while
working in Catglobe.
This will enable you to
customize your questionnaire
to fit your survey.
Flexible Settings
Experience unlimited
options in terms of question
properties, question types,
conditions, jumps, filters,
and language selection etc.
Invitations
Invite respondents
through e-mail, SMS, QR,
pop-up and/or panel
No Limitations
Unlimited amount of
surveys pr. year. Unlimited
amount of respondents pr.
survey. Unlimited users
to function as admins.
Save Time and Resources
Create and reuse templates
such as customer satisfaction,
advertising and product tests
etc. Templates can be reused
in the project process from
data collection to reporting.
High Security
We can't guarantee your
WiFi connection, but we
promise that any change
in your questionnaire will
be saved automatically.
Customize Layout
Customize your design on e-mail invitations, questionnaires and analyses.
Insert your company logo, colors, fonts and graphics.
It is possible to use custom CSS.