Multiple languages
With Catglobe you can use all the character sets and languages in the world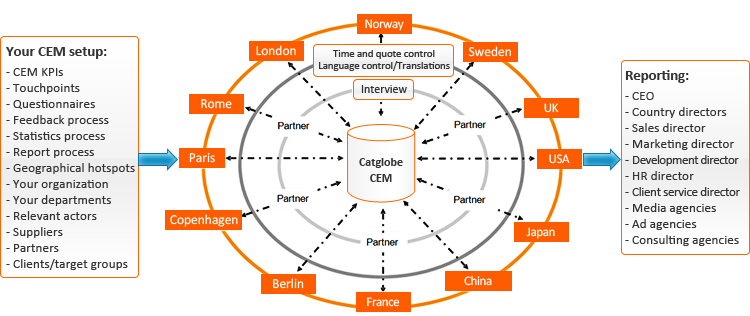 Catglobe handles all languages and character sets, both during data collection and reporting. This also applies to control of time zones, which ensures harmonization and synchronization of projects, feedback, alarms and reporting across national borders.

Coloplast has established patient panels in 11 different countries and saved a lot of money, while also gaining much more knowledge from their surveys. In addition, Coloplast got rid of a lot of hassles and time spent on coordinating and reporting of results. The amount of human errors have been vastly reduced, and the ability to react is significantly faster due to the close dialogue with customers worldwide. Overall, the Catglobe solution is considerably cheaper than Coloplast's previous traditional single analysis.

Nilfisk Advance completes all their surveys in Catglobe – across 18 countries. Marketing and sales departments can follow the market and performance in relation to potential and existing customers across all sales channels and partners. Nilfisk's performance has also improved significantly.

Ministry of Foreign Affairs of Denmark has, in cooperation with CEM Institute, streamlined and optimized their quarterly economic and social analysis in east Africa. The results are quality assured through the management and monitoring of the involved call and face-to-face centers, all using Catglobe. Automation of statistical calculations and online reporting is also controlled through Catglobe.